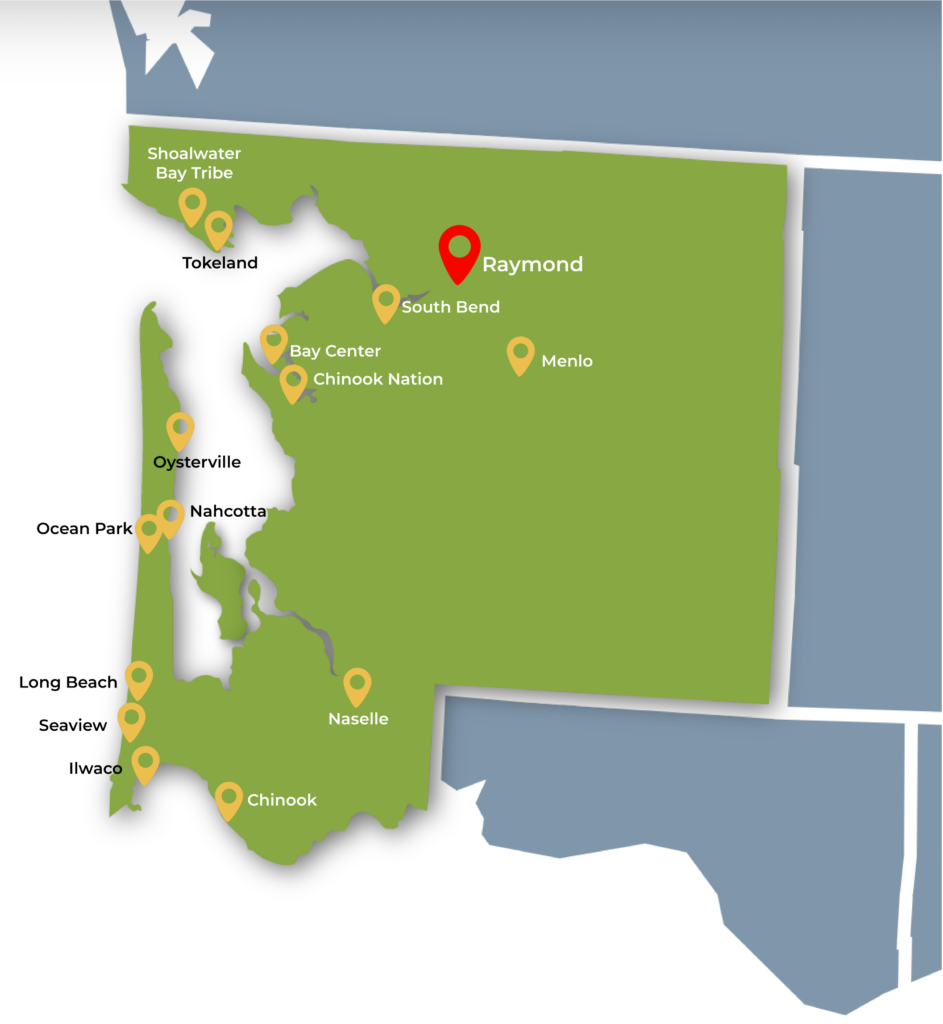 Experience our unique coastal lifestyle.
Raymond is a small city bordering Willapa Bay. Traditionally, their economy has been based on logging, commercial fishing, and tourism. 
Surrounded by beautiful old-growth forests and the rambling Willapa River running through town, Raymond is an ideal Northwest small town.
Raymond was incorporated on August 6, 1907.
Named after the first postmaster, Raymond had a reputation as a wild and wooly lumber mill town with elevated streets above the tidelands and sloughs.
Today, a more sustainable lumber industry is growing to include a new saw mill along the Willapa River adjacent to the Port Industrial Park. 
The Port of Willapa Harbor, located in Raymond, originally was built to provide docking facilities and service for shipping logs and lumber and to support commercial fishing and oystering in Tokeland and Bay Center.  Over the years the Port has expanded to include the Willapa Harbor Airport, the Dick Taylor Industrial Park and the Stan Hatfield Energy Innovation District.  
Raymond has experienced an influx of cannabis manufacturing and agricultural jobs after legalizing marijuana in 2012.  Raymond has embraced all aspects of this lucrative industry by welcoming many new start-up businesses including commercial marijuana grow operations, marijuana-infused goods manufacturing, as well as retail marijuana stores.
As far as recreational business startups, Raymond is growing as a craft beverage destination including Wildman Brewing, Willapa Brewery, Woo Hoo Winery and the Pitchwood Alehouse serving up many craft beverages and live music.  Fun fact, the grunge band "Nirvana" had their first performance in Raymond in 1987.
Generations of families call Raymond home. Experience life by the river with its abundance of wildlife and outdoor recreational activities. Be sure to visit the Carriage Museum and the 53 mile Willapa Hills Trailhead.



Bachelor's Degree or Higher



Need more information about business in Pacific County?

We're here to help!
Find commercial or residential property in Pacific County.